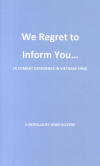 John Olivere is a singer/songwriter and author from the Boston area.  His forte is writing songs about war and peace.  He spent 8 months in Vietnam in 1968 from which he draws the inspiration for his songs and writings.
  He recently completed a book about his experiences in Vietnam entitled "We Regret To Inform You".   The paperback is available using PayPal as the payment processor.
  He has released two CD's, "Purple Heart" in 2000 and "The "Olivere Brothers - Volume I" in 2007.  "Home Again" and "Hit the Ground Running" from the "Purple Heart" CD and his acclaimed new song "Another Soldier" are played on radio station WATD 95.9 FM each Memorial Day and Veteran's Day.   "Another Soldier" found on the "Olivere Brothers - Volume I" was recently reviewed on Amie Street.
  "Another Soldier is a brilliant depiction of the emotional aspect of losing loved ones in war. A statement of how a progressively civilized nation becomes less concerned about the value of life as we progress. One of the most emotional anti-war songs of not only this but of past generations." --- Amie Street music review You can listen to and purchase his music at cdbaby.com and iTunes.